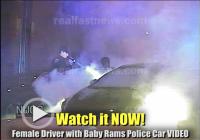 [
contact RFN
]
[
send to friend
]
View DRAMATIC police video above of a female driver with a baby onboard that attempted a daring escape by ramming an RCPD unit at full throttle after being awakened from an intoxicated blackout while sitting at a traffic light downtown. Also view the additional evidence gathering video.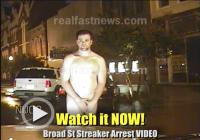 [
contact RFN
]
[
send to friend
]
>> ARREST IMAGE & CHARGES - Early in the morning on 7.7.13, RCPD responded to the 300 block of Broad St after someone reported that a male was wandering around while totally nekked.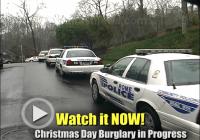 [
contact RFN
]
[
send to friend
]
View mobile VIDEO above. - Christmas day 2012, multiple RCPD units responded to a burglary in progress at a Creekside Way address off Horseleg Creek Rd. According to the elderly resident, she & her husband were returning home and saw a white Jeep Cherokee parked in the driveway with the engine still running. The female resident entered the garage to find the door open and the dog running out of the house. She then peaked inside to find the house in disarray. She immediately returned to her car & called police. She stated that she kept at least one gun in the house. First responders surrounded the house with guns drawn. Police stated that forced entry was made at the rear of the home and also later confirmed that two of the resident's guns were recovered still in the house. They also stated that items had been boxed up ready to take by the burglar. The suspect fled into the woods behind the house which is also the Horseleg creekbed. Nearby ShorterU was put on alert along with adjoining neighborhoods that back up to those woods. A tracking dog was called to the scene & a large perimeter was searched, including Shorter Heights & Mt Alto Rd. The tracking dog followed a scent from the house up the steep wooded hill on ShorterU's campus behind a dorm where the track ended. ShorterU security had encountered a female dressed in dark clothing on the campus shortly after police arrived at the home. However, she was not detained because they were not yet aware that the burglary had occured. A few days later, a 20 yr old female was arrested for this burglary after confessing to the whole incident.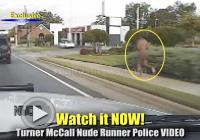 [
contact RFN
]
[
send to friend
]
RFN was made aware of rumors, pictures & possible phone video of a man seen running nude down Turner McCall that were circulating on the internet but a few early attempts contacting officials for info got no results. It's no urban legend & you know RFN does not settle for boring text news reports or pictures, so view the exclusive world premiere police video above of the Turner McCall streaking runner! Boring version >> RNT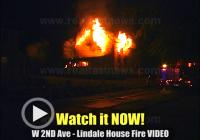 [
contact RFN
]
[
send to friend
]
View dramatic mobile video above from the scene of a raging fire just moments after trapped residents escaped from the flames. FCPD, RFD & multiple EMS units responded to an address on W 2nd Ave near the mill in Lindale. The call came in to 911 stating that 2 residents had awakened to find themselves threatened by growing intense flames and were trapped. Minutes later at least one managed to jump from a 2nd story window on the back side to escape the flames. As this was happening, first responding FCPD officers, Matt Meyer and Sgt Josh Harkins arrived and ran toward the burning house with Meyer requesting multiple ambulances. As Officer Meyer approached the house, he saw that the original two had escaped but fearing that other residents may still be inside he rushed inside to check for any that may have still been trapped in the other apartment but no other residents were found. While Meyer was inside, Sgt Harkins managed to free the pet retriever dog that was tied by a leash on the porch. The two victims were taken to the hospital for treatment and the dog was given fresh water and checked on frequently by both FCPD officers while RFD firefighters extinguished the intense fire within 30 minutes. It was determined that when power was restored after an outage due to a storm, a heating element on a stove that had been left on was re-heated & eventually started the fire.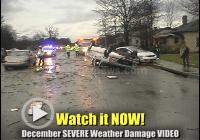 [
contact RFN
]
[
send to friend
]
View mobile video above to view uncut, dramatic video from the scene resembling a war zone on Division St between Shorter Ave & John Davenport Dr. due to an EF-2 tornado in late December of 2011. This storm was similar to, if not worse than a series of tornadoes earlier in the previous spring. The video will include a first person view of an overturned truck, blown out walls on a warehouse & various twisted trees and snapped power poles. In addition to all emergency services personnel who responded all over the area, RCPD officer (75) Bryan Goresh was slightly injured when aiding other injured motorists in this Division St video.

To view RFN video in a CBS Atlanta report, click here and to view a detailed Floyd EMA damage report, click here.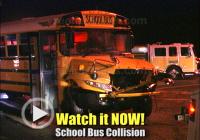 [
contact RFN
]
[
send to friend
]
View mobile video above of Polk County school bus #23-06 reportedly loaded with 30-40 students collided with a wrecker on the loop at New Calhoun Hwy 53. According to a parent at the ER, the students were reported to be from Cedartown High and Middle School returning from a wrestling meet. Minor injuries to multiple students were reported and the wrecker driver had minor facial injuries. All bus passengers were immediately relocated to a church lot at that intersection and then reportedly loaded onto a local bus and transported to the hospital for evaluation.
Previous mobile archive video content not listed now is currently unavailable. However, all of the videos can be viewed on a PC at RealFastNews.com - Please check back for the restoration of previous mobile video selections. Thank you.
[
TOP
]
[
home
]