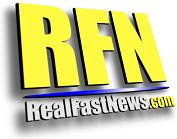 RealFastNews.MOBi
It's not just fast news, it's reeeal fast news!




Historic Clock Tower Restoration


>> Restoration & Fundraising Details

>> Details About Big Donation

In the video below, get a unique & close-up view showing the chipped paint & other weathered items, the timing electronics behind the clock faces & mechanical components inside the historic clock tower's giant bell housing at the top to see how it all works. Also get other details about the ongoing restoration fundraising effort & a recent large donation at the links above.





Video Archives | Advertise with RFN! | RFN Bio | Comments? | RFN Support
---