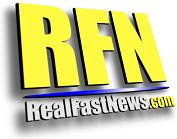 RealFastNews.MOBi
It's not just fast news, it's reeeal fast news!
FCPD High Speed Chase, MVA Collision & Rollover


Just minutes after midnight Tuesday morning, RFD rescue, EMS & assisting agencies responded to an MVA rollover with entrapment of the occupant(s) in a vehicle involved in a chase on Calhoun Rd just north of Rush Chapel Rd in N Floyd. An FCPD unit was damaged in the pursuit as well. As seen in the video above, an oncoming driver was forced off the road in a near-miss head-on collision. The extent of injuries, if any, were not immediately known.

MEDIA RELEASE: Investigators are seeking information about a vehicle who was targeted by a man who was running from police Tuesday morning. The pursuit occurred on Calhoun Rd when a man fled from police on foot & stole a car at a gas station within the city of Rome. The man was arrested after he wrecked the stolen vehicle & flipped it upside down at the end of Calhoun Rd. During the course of the chase the suspect, Raymond Downs, changes lanes & charges toward an oncoming vehicle at a high rate of speed. The oncoming vehicle is seen in the video & swerves off road to avoid a collision. If you were in the area at the time of the chase, or know the person who was targeted by the person being pursued, the FCPD encourages you to contact investigators. The pursuit began around 12:03A on 3.31.15. The aggravated offense occurs on Calhoun Rd north of Shannon before the road connects with Ga 53. You may either contact FCPD through its Facebook page by private message, by e-mail at floydcountypolicedept@gmail.com or at 706.235.7766.



Video Archives | Advertise with RFN! | RFN Bio | Comments? | RFN Support
---